Regular price
$108.00 CAD
Sale price
$83.00 CAD
Unit price
per
Sale
Sold out
The Anal Starter Kit takes away the guesswork...
Beginners need to start somewhere to get to where they want to go. The anal arts are delightful but they have also ruined many would be players. Many who jump in blind have found themselves in painful and embarrassing situations that the experience retarded their progression or forced them to quit it altogether. The Anal Starter Kit should be a nice starting point to a pleasurable venture into anal bliss. 


WHAT'S INCLUDED:

---

1. COLT Anal Trainer Kit

($24.99)
2. COLT Anal Douche

($24.99)
3. COLT Slick Personal Lube - 8.9 oz

($14.17)
4. CleanStream Lubricant Launcher

($13.88)
Regular combined price:
$78.03
Fun Pack price:

$59.99 ($18.04 savings)
The Anal Starter Kit includes the COLT Anal Trainer Kit to get you on your way to sampling the delish dish of backdoor penetration. But, before you start poking back there, you should get started with cleaning your derriere. The COLT Anal Douche should get you acquainted with the sensations of backdoor penetration and it should get you used to the cleansing. Once clean, you may be thinking that it's time to drive in the plugs but you are mistaken. Think LUBE! Yes, lube.
And, in this case water based lube. Included in the kit is an 8.9 oz bottle of COLT Slick Personal Lube. As a beginner this is a godsend and when you level up, "with lube" is just far superior.
You can apply it manually but the blue XL CleanStream Lubricant Launcher is included. Let us learn more about each of the items included in the Anal Starter Kit.


---
COLT Anal Trainer Kit
Be ready for any man.
Men are not created equal, some are bigger than others but you can take them if you train hard enough. The COLT Anal Trainer Kit may just be the training toool that gets you there. The kit includes three trainer plugs that gets you started with a small 4.75" x 1" plug and you progress to the next which is 5.5" x 1.25". If you manage to complete these two, you then go to the biggest one in the set which is 6.5" x 1.75". When the biggest one feels easy, then you would have made your jump from novice to advanced. The plug design is tapered to make it as easy and gentle as possible.
For couples, the kit is also fun to use as a warm up to the deed itself. Foreplay is magic. A lover new into the joys of anal penetration may need a lot of foreplay to get that bottom warmed up.
You can get the set clean and ready for the next encounter with a quick warm water and soap cleansing or toy cleaner. 
Material - high quality PVC Plastic

Phthalate Free

Waterproof

Color - Black
Plug Measurements
4.75" x 1"

5.5" x 1.25

6.5" x 1.75"
Train hard to play hard.
COLT Anal Douche
Cleans and excites.
The COLT Anal Douche is a cleansing system designed for cleaning back there but it can also double as a pleasure unit. Cleaning your rear may never again be just for hygiene. The unit has an EZ squeeze bulb that can be equipped with interchangeable attachments included with the product. If you feel like doing you plain old clean, you can go for the slim tip. On the other hand, if you feel like playing while you clean, you can use the beaded tip.
The unit can be disassembled for easy cleaning with warm, soapy water. Use water-based lubricant to make penetration more comfortable.
Material - high quality ABS Plastic and rubber

Phthalate Free

EZ squeeze bulb

Waterproof

Color - Black
Avoid accidental discharge that spoil the mood.
COLT Slick Personal Lube - 8.9 oz
Intensify pleasure.
COLT Slick Personal Lube is a water based lubricant made for a variety of personal needs. Exclusively used by COLT stars, it is the ultimate water based formulation lube that is phthalate free and latex compatible. If your toys are safe to use with water based lube, this product should be a great choice to make the pleasures even more gratifying.
Water based

Phthalate Free

Latex compatible
Don't go dry. Lube up and let loose.
CleanStream Lubricant Launcher XL
Larger launcher.
Lube launchers are not created equal and with the CleanStream Lubricant Launcher XL, you are sure to have ample lube in one launcher. The launcher is not only made for lube, you can also use a variety of compatible liquids.
The lube launcher design has a trio of non-slip and easy to grip rings so sucking up liquid and shooting it out is easy. Also, since this is the blue XL version, it holds more liquid compared to the original. Don't worry about drips and spills as well because the design also has a cap to keep the liquid where it is until you need it. It has a smooth external texture so it slips in for easy penetration. It disassembles for easy cleaning.
Material: ABS

Color: Blue

Measurements:

7.5 inch overall length

4.75 inch insertable length

0.64 inches in diameter.
Better with lube and more is better.
Share
View full details
Customer Reviews
05/05/2021
Anonymous

United States
Amazing product
I enjoyed trying all three plugs, lol still trying for the third but omg so gooood. I purchased about two-three months ago and I still have more than half of my lube left. I definitely recommend the bulbed douche attachment. And the lube launcher, *chef's kiss* I never have to worry about how wet I am.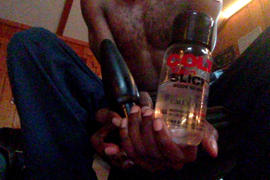 05/13/2020
Anonymous

United States
Just what I needed
Great all-in-one package with everything I need to begin exploring new avenues of intimacy.
02/16/2020
Curtis M.

United States
That the best for beginners like
I really love it first time with toys and only had sex twice in my able and this kit is excellent is realizing you're my first person second time how good it felt having a hard cock in my ass I love how you got me ready open back up